---

This is the new home of the PJM Prophetic School. I started this school because the Lord has given me the mandate to be a prophet to prophets. To train others in the office of the prophet and gift of prophecy. Here you can gain knowledge and receive an impartation to operate in the same prophetic grace that I carry. This school is not just for the five-fold minister, but for anyone who desires to have a deeper, revelational understanding of how to see and function in the Spirit-realm. If you are ready to grow and develop yourself in the prophetic you are in the right place

---
MEET THE FOUNDER AND PRESIDENT OF

THE PJM PROPHETIC SCHOOL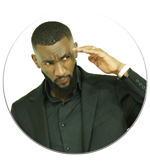 He's a prophetic revelatory voice to the nations since 2001.
God has called him to be a prophet to prophets.

He has been preaching and prophesying from chitungwiza, Zimbabwe to the present where he is requested at some of the largest gatherings of Christians around the world. He has been known as a teacher and a spiritual father, in his prophetic school and mentorship programs. Prophet Passion Java is the spiritual son of Bishop Noel Jones, who's known as the prince of preachers.

An accomplished author Passion Java has over 30 books including manual materials that are in the prophetic school. He has been nicknamed Chariot Rider, Gaffa and FBI Prophet because of the way he prophesies. Including of the death of Nelson Mandela in which he stated 6 months before it happened. He prophesied the year, month, date, minute, second and the place he was going to die, He also stated what president Obama will state at the funeral and it all took place as he prophesied.

How does this work?
Classes are structured to release weekly. This will give you the opportunity to meditate on each teaching and learn at your own pace. There is also a suggested reading list provided.


Where do you operate?
The PJM Prophetic school is a division of Prophet Passion Java Ministries. Based in Maryland.
---

Want to talk it over before enrolling?
Phone: (301) 871-1205 or WhatsApp International Calls: +1 (301) 503-7144